School of the Prophets by Jeremy Lopez USB Flash Drive Digital Course
PRICE was $325.00       NOW PRICE is $150.00    SAVE $175.00
ORDER HERE --    US MAIL orders
School of the Prophets Course 101
If you have ever wanted to release a prophetic word, but you hesitated or was not quite sure what to do.. or even wondered if you were hearing from God. this Course, "the School of the Prophets" by Jeremy Lopez is the answer for you. It will answer your questions, activate your gifts, and give you the assurance that you are making right choices. Jeremy Lopez designed The School of the Prophets to help you learn about the prophetic and to help you understand the following: prophetic prophetic protocol and the Economics of the Prophetic (how it relates to finances) and much more!
You will soon discover that God speaks in the NOW! He is here in the Present moment and He waits for you to put action to your faith.
 Discover your destiny and what God has waiting for you NOW!
 Course includes:
 1- Introduction and Instruction Page
This is your introduction and instruction page that will take you through step by step for the next 6 weeks on what lesson to complete until course is finished.
1- School of the Prophets Workbook - A Training Manual for Activating the Prophetic Spirit Within
This training manual discusses all of the different realms on the prophetic and how to activate them in your own personal life. This manual for The School of the Prophets was designed as a course to help you learn the science of the prophetic and understand the following: prophetic consciousness, prophetic attraction, birthing forth your prophecy, how to cater to your prophetic word, prophetic protocol, and the relation to the prophetic and finances. As you go through this course you will discover that God is speaking to you in the NOW, the Present and wanting you to put action to your faith. Discover your destiny and what God has waiting for you NOW! (Exclusively to this course)
5- CD Set (6 Teachings ) on USB
(Exclusively to this course)
 CD1: Introduction to the Prophetic

CD2: Prophetic Consciousness
CD3: Prophetic Attraction
CD4: Birthing Forth Your Prophecy
CD5: Prophetic Protocol and Delivery and Prophetic Economics: The Realm of Money
2- Prophetic Instructional Cards
1card on 'Giving A Prophetic Word' Card
1 card on 'Receiving A Prophetic Word' Card
Theses cards will give you guidelines on what to do when you give a word and what you do when you receive a prophetic word.
(Exclusively to this course)
1- Releasing the Power of the Prophetic: A Practical Guide to Developing a Listening Ear and Discerning Spirit (book) by Jeremy Lopez
In this astounding book, Jeremy breaks down the Prophetic office, birthing forth your prophecy, the ministry of the seer, psychics vs prophets, prophesying to your situation, and more! Prophecy is as old as the Bible. Yet many don't understand--or even recognize--when and how it happens today. Having taught and ministered prophetically around the world, Jeremy Lopez has seen this need firsthand, and he's written this book to clear away the confusion. Clear and concise, this handbook is essential reading for all who have had--or long for--a brush with the prophetic.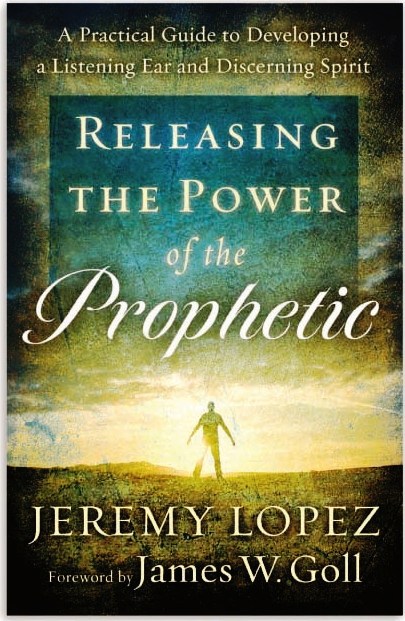 9- Prophetic Series Cd's ON CUSB
Prophets vs Psychics: Legally vs Illegally
Understanding the Prophetic Ministry
The Prophetic Office: The Flow of the Prophet
Eye of the Seer
Extending the Prophetic Word to Reroute the Nations
Forming an Image through Prophetic Power
School of the Prophets: Raising Up A New Breed of Prophets
Judging Prophetic Utterances: False Prophecies vs True Prophecies
A Release of Miracles through Prophecy
(Exclusively to this course) all on USB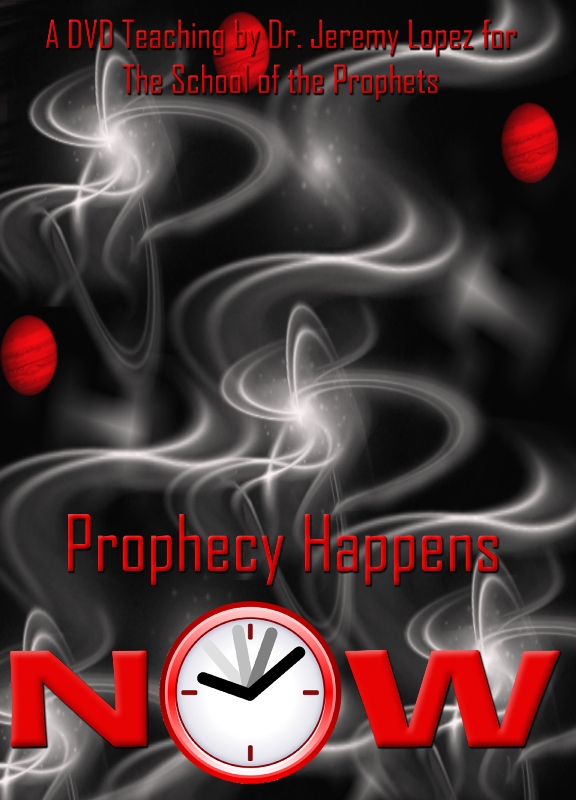 1- Prophecy Happens Now
- Jeremy Lopez (DVD
)
Learn how to make prophecy accelerate in your life. Learn what tools you need to help you realign and be positioned for what is to come in your destiny.
(Exclusively to this course)

1- 6 Week Course Question and Answer Turn In Form
This is your question and answer turn in form taken from the workbook that you are to fill out every week (or at your own pace) for the next 6 weeks then mail or email back to us for us to grade once the course is finished.
1- Personal Activation CD
You will also receive an activation Cd with your course to charge you with prayers, decrees and an activation for your prophetic gift.
** Once course is completed, mail the course questions/answers to the address provided in the course. Once your questions have been graded, we will then mail you back your certificate of completion.
Testimony and Endorsements:
I sent in for the Prophetic School and I cannot tell you what a blessing this has been to me. I had been to a couple other Prophetic Schools, but this one ministered to me and opened my eyes to understand my own gifting and that of others better and why I think and say the things in the way I do, etc., how to press into my prophetic word(s) and so much more.
I want to thank you for your part in my life and what God is doing. I will not be the same!
There are no refunds on these digital courses. Thanx for understanding.